High quality resin MR-PET


Kyoei Industry developed MR-PET, the recycled PET resin with quality equivalent to virgin materials produced from post-consumed PET bottles collected in Japan using knowledge of the company and its unique technologies. The latest technologies remove the stains adhered to the surface and most of the impurities that permeate the resin under a vacuum and high temperature environment. The process also prevents physical deterioration and recovers the IV value. The MR-PET high-purity resin produced this way has already been used for purposes in which the materials come in direct contact with foods, such as beverage bottles. The applications are expanding into the future.



MR-PET that Kyoei Industry developed was adopted as the beverage bottle for Oolong Tea (Chinese tea) of Suntory Beverage & Food Ltd. in May 2011. This became the first effort to realize bottle-to-bottle recycling using mechanical methods. This product was also adopted for Namacha (Japanese green tea) of Kirin Beverage Company, Ltd. in 2012, and its quality received good evaluations.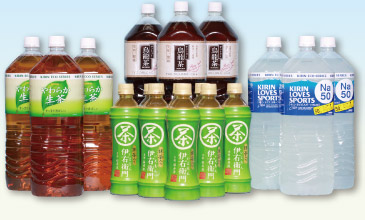 Suntory Beverage & Food Ltd. started using Re-PET bottles in April 2012 using 100% MR-PET, which was the first attempt by the beverage industry in Japan. This is the first commercial use of new PET bottles, which are not made from petroleum.

The high quality of the material is leading to widespread uses of bottles for products besides beverages, food containers, and packaging materials.




High-purity materials for filaments are delivered by controlling IV values.

The re-condensation and polymerization reaction prevents physical deterioration caused by heat applied during the recycling processes, and the recovery of the IV-value, which used to be considered difficult, was realized.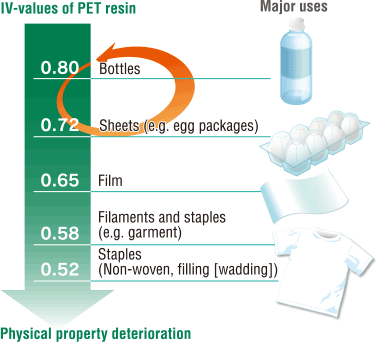 The Fraunhofer Society in Germany has confirmed that the quality satisfied the safety standards for food packaging materials required by the FDA in the United States.

Third-party inspections by SGS Japan are being implemented to verify that the quality complies with laws and regulations in Europe, including RoHs (Restriction of hazardous substances).

MR-PET is produced in facilities certified by the FDA (Food and Drug Administration) and EFSA (European Food Safety Authority).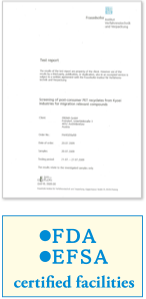 MR-PET
, produced from post-consumed PET bottles, can reduce CO
2
emissions drastically compared with the use of oil resources.